Welcome to the Irish Radiation Research Society
The Irish Radiation Research Society (IRRS) is an all Ireland nonprofit organisation for researchers in the field of ionising and non ionising radiation. The IRRS aims to promote and advance learning and education in the field of radiation protection and radiation research throughout the island of Ireland.
The socety is affliated to both the International Association for Radiation Research (IARR) and to the International Radiation Protection Association (IRPA). The membership of IRRS is drawn from accademic institutions, health research groups and statutory agencies from throughout Ireland.
Symposium on Low Dose Radiation Biology and Radiation Risks

The IRRS and IAPM held a joint event on Low Dose Radiobiology and Radiation Protection, at the Radisson Blu Hotel, Golden Lane, Dublin 8 on the afternoon of Friday 27th February 2015. A flyer and programme for the event can be downloaded by clicking here.
IRRS ASM 2016

The 2016 Scientific meeting will take place on November 11/12th in the Trinity Centre for Health Sciences, Trinity College Dublin.
The conference programme may be downloaded from the following link.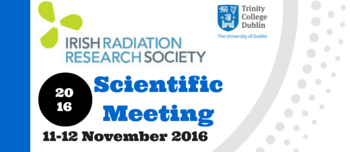 Affiliated Societies
| | |
| --- | --- |
| The IRRS is an associated society of the International Radiation Protection Association. Members of the IRRS represent Ireland through the IRPA for the advancement of radiation protection. | |
| The IRRS is also affiliated to the International Association for Radiation Research, an independent organization of international societies for radiation research, which organizes the International Congress for Radiation Research. | |